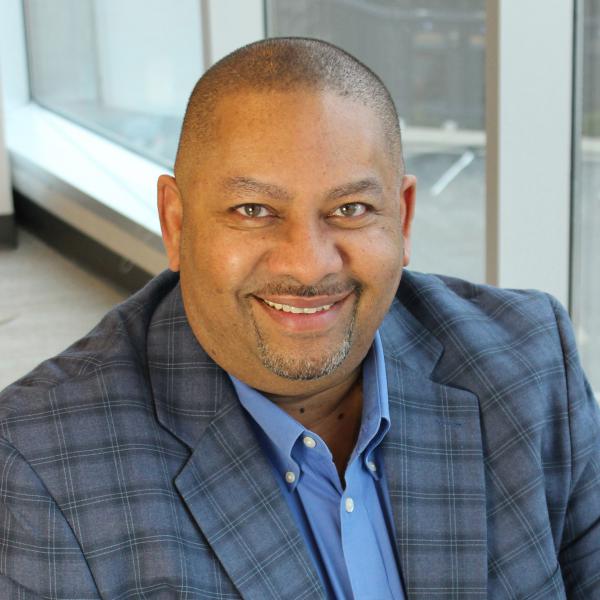 Harold Brown
Vice President, Strategy and Policy
As Vice President, Strategy and Policy, Harold Brown leads the implementation of Interact for Health's strategic plan to improve the health of all people in the Greater Cincinnati region through community engagement, grants, research, education and policy. He directs the organization's grant-making design and implementation and works to build partnerships for the benefit of Interact for Health and the community

.

Harold brings more than 20 years of experience in philanthropy to his position. Most recently, he was the Vice President of Community Strategies at the Greater Cincinnati Foundation, providing leadership and strategy for GCF's grant making. Previously, Brown held several roles with the KnowledgeWorks Foundation and its subsidiaries focusing on funding and policies around education reform, achievement gaps, college access and success, non-profit management and program development.

Brown earned a bachelor of arts in government from Harvard University, and completed a mini-MBA from Miami University. A graduate of Leadership Cincinnati Class 34, Brown is also active on several boards, including Mount St. Joseph University and Philanthropy Ohio.

Having grown up in Oxford, Ohio, and then attending college and living in the Boston area for a number of years, Harold currently lives in Springdale, Ohio, with his wife Gwen and son Christopher, a junior at St. Xavier High School. He is an avid sports fan and his favorite teams are the Dallas Cowboys, LA Lakers, Cincinnati Reds, Georgetown Hoyas, and The Ohio State Buckeyes. (He roots for the Bengals, too, unless they're playing the Cowboys!). Harold's main hobby is golf (not all that good but loves to play), and occasionally he can be found on a racquetball court.

Download a printable version of Harold's bio here.