Interact for Health awards competitive grants to address health promotion through Requests for Proposals (RFPs) and Requests for Applications (RFAs). Organizations submit a proposal based on the requirements of the RFP or RFA. Interact for Health reviews the proposals and awards a limited number of grants to the organizations that best meet the requirements of the RFP or RFA.
Quick Response Team Evaluation RFA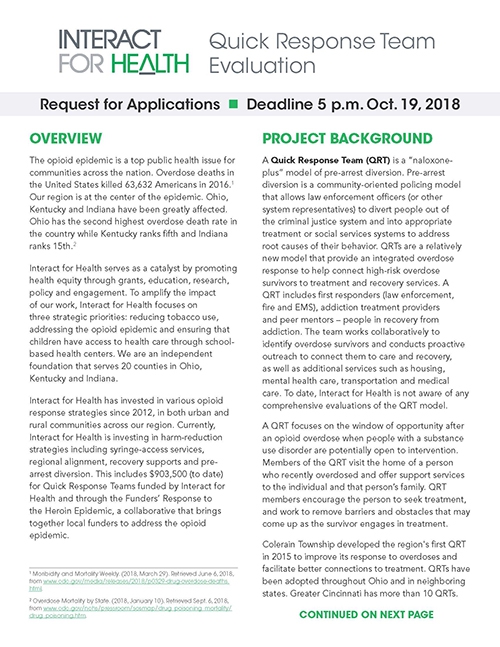 Interact for Health seeks proposals from experienced evaluators to measure the effectiveness of quick response teams in Greater Cincinnati. A quick response team intervenes after someone overdoses by providing resources and connection to treatment and further building a relationship to encourage the person to go to treatment. The multiyear, multisite process and outcome evaluation will assess the intermediate and long-term outcomes of the quick response team initiative at the model, team and client levels. The proposed three-year budget (2019-2021) should not exceed $380,000. Proposals will be accepted at mlydenberg@interactforhealth.org until 5 p.m. Friday, Oct. 19, 2018. To learn more, download the full Request for Applications.
Requests for Proposals for services
Interact for Health occasionally solicits proposals from organizations and individuals to provide services to the foundation and its related entities. There are no proposals being accepted at this time.