Interact for Health awards competitive grants to address health promotion through Requests for Proposals (RFPs) and Requests for Applications (RFAs). Organizations submit a proposal based on the requirements of the RFP or RFA. Interact for Health reviews the proposals and awards a limited number of grants to the organizations that best meet the requirements of the RFP or RFA.
Request for Proposals: School-Based Health Centers in Greater Cincinnati
Interact for Health will provide funding, resources and support for high-need Pre-K through 12th grade schools and health provider partners to plan and open school-based health centers (SBHCs). Providing health services in schools increases access to health care for students and the school community. There is strong evidence that SBHCs improve both health and educational outcomes, particularly for low-income students and students of color. In these communities, co-located services can reduce and eliminate barriers to receiving health care such as transportation and finding time to attend appointments.
SBHC Learning Group: Those not yet in an established school-health provider partnership can apply to participate in the SBHC Learning Group. Applications for the learning group will be reviewed on a rolling basis.
Requests for Proposals: Real Estate Consultant Firm
Interact for Health is accepting proposals from independent commercial real estate consulting firms in order to secure the best possible real estate solution for Interact for Health's long-term needs, while ensuring an optimal financial and operational outcome. The chosen firm will provide strategic planning and needs analysis, and site search, brokerage and negotiation services. Download the Request for Proposals below for more information.
Request for Proposals: Evidence-Based Tobacco Policy Change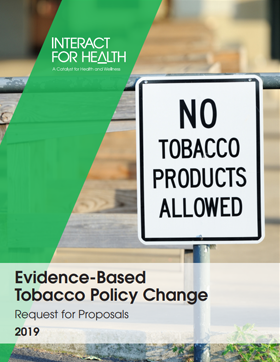 To support Interact for Health's strategic priority of reducing tobacco use and exposure to secondhand smoke among low-income adults and youth in Greater Cincinnati, we are seeking grant applications from our 20-county service area to increase the number of people in our region covered by evidence-based tobacco policies. This funding is intended to support evidence-based tobacco policy change efforts at the community level through developing tobacco control coalitions, strengthening existing tobacco control coalitions, community education, building advocacy capacity to work on policy change, and best-practice policy implementation and enforcement strategies. Interact has prioritized the following evidence-based tobacco policies for this RFP:
Increasing the minimum legal age of sale for tobacco products
Creating smoke-free workplaces
The application period for summer funding is closed. Proposals for fall funding will be accepted until noon Tuesday, Oct. 8, 2019.
For additional information and details on the RFP please see the proposal workshop slides and recording. For individual assistance or questions please contact Senior Program Officer Megan Folkerth at mfolkerth@interactforhealth.org or 513-458-6631.