Interact for Health awards competitive grants to address health promotion through Requests for Proposals (RFPs) and Requests for Applications (RFAs). Organizations submit a proposal based on the requirements of the RFP or RFA. Interact for Health reviews the proposals and awards a limited number of grants to the organizations that best meet the requirements of the RFP or RFA.
Interact for Health seeks applications for Advocacy Bootcamp; deadline Nov. 28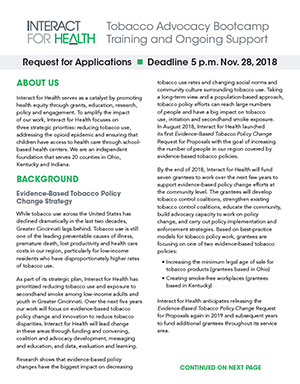 Interact for Health seeks applications from experienced contractors to develop and deliver an Advocacy Bootcamp in 2019 for a cohort of Evidence-Based Tobacco Policy Change grantees. The purpose of the bootcamp is to strengthen the advocacy knowledge, capacity, and skills of grantees to work toward tobacco policy change in their local communities. The selected contractor will also provide technical assistance and serve as a trusted thought partner to grantees on advocacy-related and tobacco-specific issues. Applications will be accepted until 5 pm. Wednesday, Nov. 28, 2018. Download the Request for Applications here.
Requests for Proposals for services
Interact for Health occasionally solicits proposals from organizations and individuals to provide services to the foundation and its related entities. There are no proposals being accepted at this time.