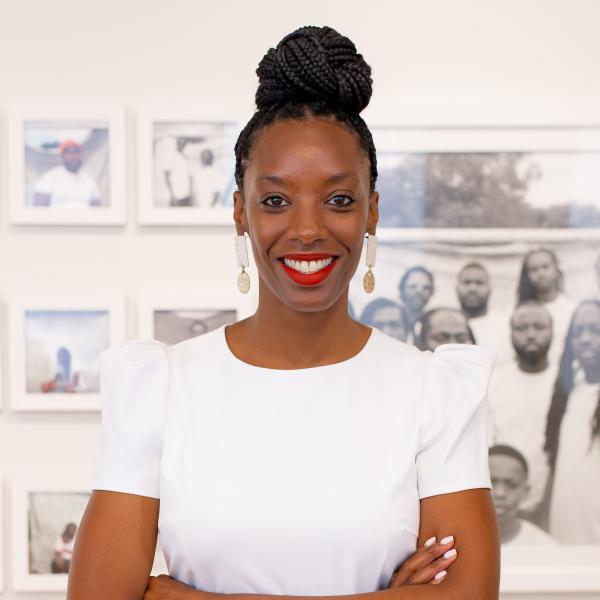 Ashlee Young
Vice President, Policy and Engagement
Ashlee Young provides leadership around community engagement, policy, and diversity, equity and inclusion, and ensures that this work aligns with the foundation's grantmaking strategy and portfolio. She engages leaders and community stakeholders to strengthen regional progress in health equity and health outcomes, and serves as a member of Interact for Health's leadership team.   
Ashlee has focused on improving health and social services in Greater Cincinnati for the past 12 years. She previously served as Vice President of Policy and Strategic Initiatives with the Urban League of Greater Southwestern Ohio. In this position, Ashlee launched direct response efforts to the COVID-19 pandemic, including a vaccination and testing site, and built community partnerships to promote equitable access to vaccination and testing. She secured more than $700,000 of funding for these efforts. In addition, Ashlee led the Urban League's policy and advocacy work more broadly, focusing on systemic and equitable change. In her prior role of Vice President of Impact, Ashlee helped transition the organization's workforce training and development program to a virtual platform and launched a dashboard to monitor progress on organizational goals.  
 
Before joining the Urban League in 2020, Ashlee managed community engagement efforts for the Strive Partnership and the Child Poverty Collaborative. She previously worked at Interact for Health as an Evaluation Officer, developing a framework for evaluation of the foundation's opioid and place-based grantmaking work. 
 
Ashlee earned a Master of Public Health from Wright State University and a Bachelor of Science from Ohio State University. She serves on several boards of directors, including the Delta Gateway Foundation, Design Impact, MORTAR and Hamilton County Mental Health and Recovery Services. She was recently appointed to the Cincinnati Board of Health and is part of the Health Policy Institute of Ohio's Equitable Strategies Committee. Young recently completed a two-year term as Executive Vice President for National Urban League Young Professionals. In 2022, she was selected by the Cincinnati USA Regional Chamber as a Making Black History honoree and American Heart Association Women of Impact nominee. In 2020 she received the Forty Under 40 award from the Cincinnati Business Courier. She co-authored two peer-reviewed articles about her work at Interact for Health on equitable strategies in grantmaking (2017) and the foundation's Thriving Communities initiative (2018) that were published in The Foundation Review. 
 
A native of Cincinnati, she is the proud mother of Nila, who attends Howard University. Ashlee enjoys traveling and spending time with her family and friends.