Interact for Health has decided to suspend the use of its conference facility, effective Tuesday, March 17, 2020. The facility will remain closed until at least May 31, 2020. A decision will be made at that time about ending or extending the closure and will be communicated via email and via our closure telephone line at 513-458-6627.
1. What types of meetings can we schedule?
The meeting rooms are available for board meetings, staff meetings, trainings, planning meetings and workshops. The meeting rooms are not available for fundraising, political events, receptions, social events or religious ceremonies.
2. What's the earliest/latest time that we can schedule a meeting?
Although our office hours are 8:30 a.m.-5 p.m., we allow guests to schedule meetings beginning as early as 7:30 a.m. Meetings can run no later than 5 p.m. Please be aware that a security fee may apply when meetings are scheduled outside of office hours.
3. What time is the building unlocked in the morning?
The building is unlocked at 7 a.m. each day.
4. What does Interact for Health subsidize?
As a community benefit for eligible nonprofits in our community, Interact for Health subsidizes the fees for room rental and A/V equipment. For nonprofits and government agencies, Interact for Health also subsidizes half the hourly banquet server rate when food or beverages are requested.
5. How far in advance can we schedule our meetings?
We can schedule rooms up to six months in advance.
6. What is the cancellation policy?
Meetings with food and/or beverage orders must be canceled at least 72 hours in advance to avoid being charged the full cost of food/beverages plus the full cost of a banquet server. Meetings without food and/or beverages must be canceled at least 24 hours in advance to avoid a $50 cancellation fee.
7. Are we allowed to charge for meetings held at Interact for Health?
In general, we ask that organizations do not charge for the meetings unless the charge is to cover catering costs.
8. Is the Conference Center open on weekends?
No. Our conference center is available only Monday through Friday. It is also closed on most holidays.
9. As a meeting coordinator, what are my responsibilities when using the space?
When using a conference room with no banquet services (meaning you do not have a server scheduled), we require that you leave the room in the condition that it was found. This includes throwing out all trash, turning off A/V equipment and lights and pushing in chairs. This way the room will be ready for the next meeting.
10. What happens if I stay past my allotted meeting time?
Because our rooms are in high demand, we ask that you do your best to vacate the room at the time your meeting is scheduled to end. However, we understand that things don't always go as planned. If you know that your meeting may run past its allotted time, please ask your banquet server if the room will be available or contact the Conference Center Manager. This way we can ensure that we have the room and/or staff available to meet your needs. Please also be aware that extra banquet server or security fees may be incurred (if applicable). All meetings rooms must be vacated by 5 p.m.
11. Are we allowed to reconfigure the furniture in the conference rooms?
No. If any furniture needs to be moved for your event, please give the Conference Center Manager as much notice as possible. Room reconfigurations are available on a case-by-case basis in the ChoiceCare and Kentucky Rooms and must be completed by our staff (a reconfiguration fee will be incurred).
12. Where should our guests park when visiting the conference center?
Rookwood Tower has three levels of free below-ground parking and one level of free open-air parking.
13. Why can't we bring our own food?
The health of your meeting guests is our first priority. By ensuring that there is no possibility of cross-contamination, we minimize the possibility of food-borne illnesses. Interact for Health is also regulated by the Norwood Health Department and has agreed to serve food from only one source.
14. Why do we have to pay for a banquet server for our entire meeting when we're just ordering the beverage service?
With limited staff, the conference center does its best to provide the best meeting experience possible. In order to do that, we rely on banquet servers to meet your needs. They'll be scheduled for the entire length of your meeting, including one hour before and one hour after your meeting for setup and cleanup.
Remember, if you are a charitable organization [501(c)(3), etc.] or government agency, Interact for Health subsidizes half of the $17 hourly banquet server rate.
15. What is the disposale fee on the catering menu?
The disposable fee covers all of the serving bowls, plates and equipment that come from the caterer with your order. This is a fee directly from the caterer and the Interact for Health does not receive any profit from food orders.
16. Is there a minimum food or beverage order required for meetings?
No. We do not require that you order food or beverages for your guests. However, we do suggest offering beverage service for any meeting that lasts longer than three hours. If you do order food, our caterer requires that all items be ordered for at least 10 people.
17. Why can't I take the leftover beverages with me?
The beverage service is charged based on the length of your meeting and the number of attendees. Because we are not charging per product, the leftover products go back into our inventory. This helps keep costs low and reduces waste. We appreciate your cooperation. Should a group remove beverage items after a meeting, a product fee will be added to the invoice.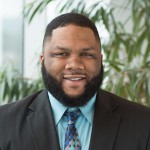 If you'd like more information about our conference center, contact
Maurice B. Stewart, MSOL
Conference Center and Education Manager