Stop the Spread
Wear a mask
Masks have been shown to help reduce transmission of COVID-19 by asymptomatic patients and the provide protection in situations where social distancing is difficult, such as grocery stores. Ohio, Kentucky and Indiana currently have regulations in place requiring masks in public places. Tips on effective mask wearing are shown in the graphic below.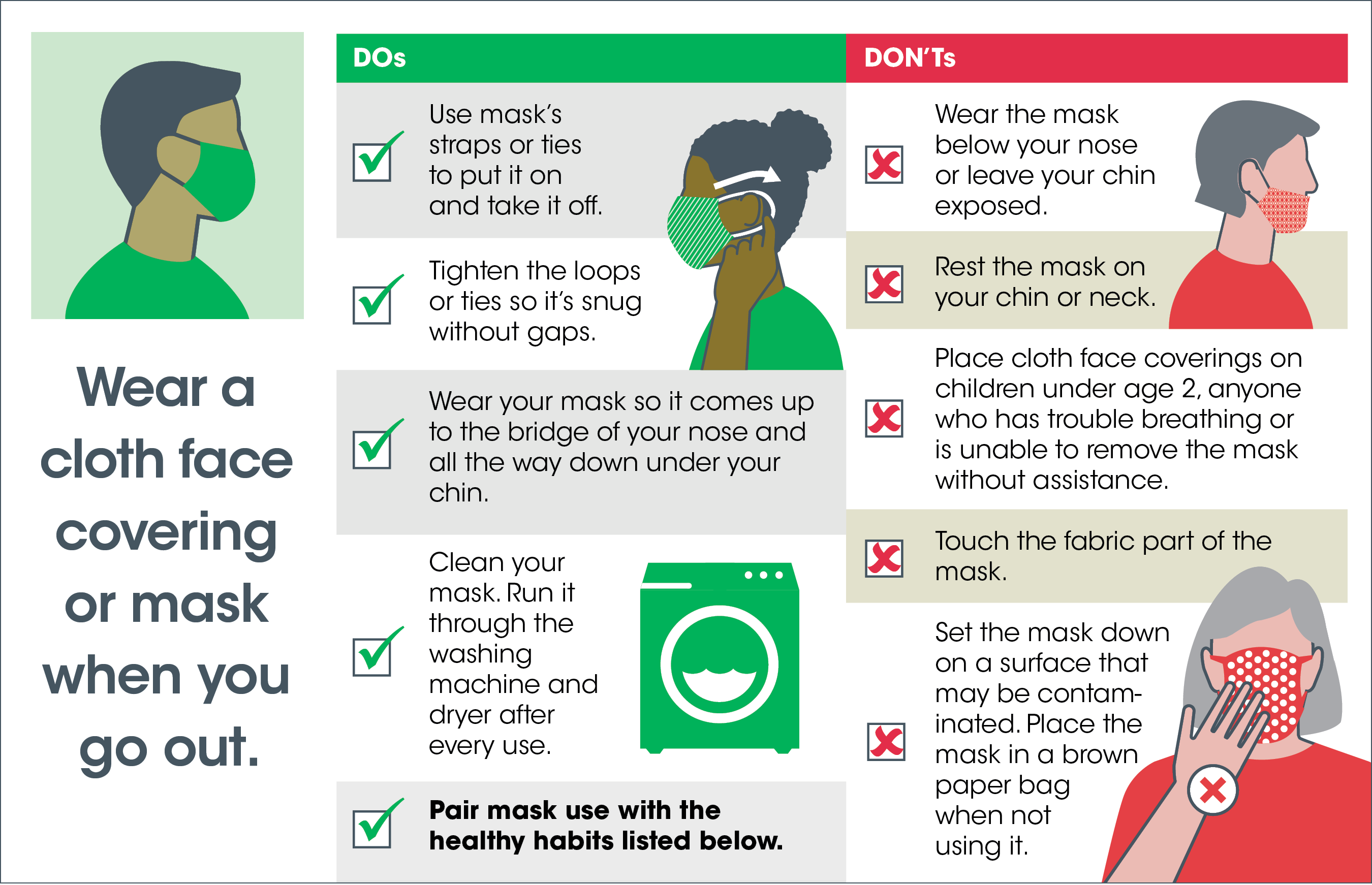 Print resources:
Wash your hands
Despite decades of advancement in medicine, advice on disease prevention, including the coronavirus, often comes back to something simple: Washing your hands. This is for good reason. Up to 80% of communicable diseases are transferred by touch. Learn more about the importance of handwashing.
Practice social distancing
To combat COVID-19, public health and government officials have recommended measures to reduce the opportunity for the virus to spread. The approach, called social distancing or physical distancing, aims to slow the emergence of new cases of the disease and to reduce the spread of the virus. Learn why this approach remains important.
Get vaccinated when it's your turn
COVID-19 vaccines currently approved for use in the U.S. provide protection against hospitalization and death, and greatly reduce the risk of getting COVID-19. The development of the COVID-19 vaccines was unprecedented in many ways. Many people in Greater Cincinnati have questions about this critical tool in the fight against the pandemic. That's why we've compiled a comprehensive list of frequently asked questions and plain language fact sheets in a variety of languages.
Local Resources
Testing
Ohio: Ohioans may be tested for coronavirus at sites including private companies and community health centers. Please visit the state's testing page for details about each location's practices, to get a test referral or to schedule an appointment. Additionally, the Health Collaborative has partnered with Hamilton County, five regional health systems and the University of Cincinnati to provide pop-up COVID-19 testing throughout Hamilton County through the Test and Protect initiative.
Kentucky: Find COVID-19 testing sites and filter by county by visiting the state's website.
Indiana: Indiana has more than 200 testing sites across the state. Search by county here.
Data
Connect with the most up-to-date data in your community by visiting the following dashboards.
Survey
The Greater Cincinnati COVID-19 Health Issues Survey was conducted in fall 2020 to understand adult behaviors, attitudes and opinions related to the COVID-19 pandemic. The survey is a project of Interact for Health and was conducted by the Institute for Policy Research at the University of Cincinnati.