Seating capacity: up to 20 in conference style, up to 24 in classroom style, up to 32 in round tables (room confirgurations available on case-by-case basis).
Built-in computer, projector and screen.
Buffet serving counter located in the back of the room for easy access to food and beverages during your event.
Dimensions: 30 feet by 25 feet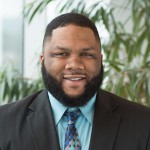 If you'd like more information about our conference center, contact
Maurice B. Stewart, MSOL
Conference Center and Education Manager