Cigarette smoking has steadily declined across the United States and in Greater Cincinnati during the last two decades. Despite this progress Greater Cincinnati lags behind the nation. Tobacco use is still one of the leading causes of preventable illness, premature death, lost productivity and health care costs in our region.
This is particularly true for adults with lower incomes. They are almost three times more likely to use tobacco than those with higher incomes. Other disparities by race, age and where a person lives also exist.
Interact for Health works to create a healthier community that protects all people from the harms of tobacco. We do this by supporting changes to tobacco policy that have been proven to work, innovative approaches to reduce tobacco-related disparities and marketing efforts. Our team has also compiled cessation and informational resources related to e-cigarette and tobacco use.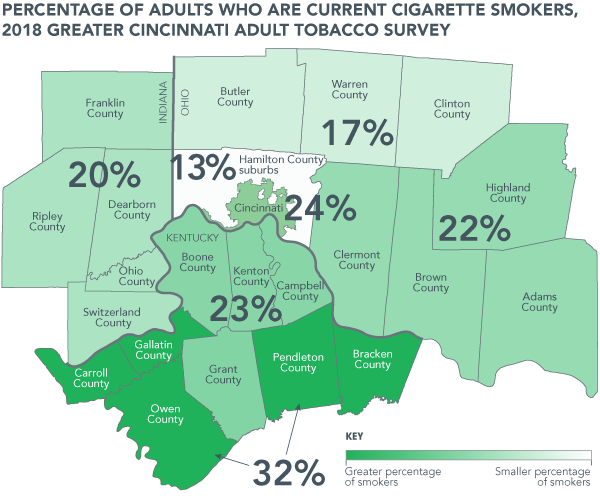 Strong policies make a big impact
Policy changes are highly effective at reducing tobacco use and exposure to secondhand smoke. They also shift social norms and influence community culture. Tobacco includes, but is not limited to, cigarettes, cigars, e-cigarettes, hookah and chewing tobacco. Interact for Health supports efforts to:
Create smoke-free workplaces. Eliminating indoor smoking is the only way to fully protect nonsmokers from exposure to secondhand smoke and its harmful effects. Youth and people with lower incomes are more likely to work in places without smoke-free polices where they may be exposed to secondhand smoke.
Restrict the sale of menthol and flavored tobacco products. The tobacco industry continues its long-standing practice of using flavors to appeal to groups such as youth and African Americans. Removing menthol and flavored tobacco products from the market may curtail their use among these groups.
Implement local tobacco retailer licensing. The tobacco industry spends millions of dollars every year to market its products in stores. Licensing helps enforce a variety of policies including minimum age of sale, advertising and retailer density.
Enforce and educate about Tobacco 21 regulations. Federal and state laws have raised the minimum legal age of sale for tobacco products to 21. However, improved enforcement and education are needed to strengthen these policies.
Innovative approaches reduce disparities
Interact for Health supports piloting and spreading promising programs and practices to reduce tobacco-related disparities. We support community-led efforts focused on adults with lower incomes, African Americans and rural communities, all of whom are more likely to use tobacco and be exposed to secondhand smoke.
Marketing and community relations
Media and education campaigns can counter the marketing that the tobacco industry uses to attract its most-targeted consumers, such as African Americans. In collaboration with local partners and input from community members, Interact for Health has developed Quit Culture. This community-based movement supports neighborhood residents in becoming tobacco-free together. Quit Culture addresses smoking triggers and offers alternative activities tailored for each community. It aims to decrease tobacco use and increase quit attempts while celebrating small victories along the way.
Greater Cincinnati Adult Tobacco Survey
We've also studied tobacco use locally to provide a more thorough picture of how it's affecting Greater Cincinnati. The first Greater Cincinnati Adult Tobacco Survey was launched in 2018. It provides data that will inform local partners' work and gauge our community's progress toward reducing tobacco use.
Funding opportunities
Grants for tobacco work are awarded several times a year. Please visit our Funding Opportunities page to learn about currently open funding.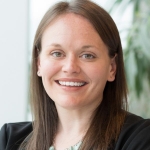 To learn more about our efforts to reduce tobacco use, contact
Megan Folkerth
Senior Program Officer