E-cigarette, tobacco use in Greater Cincinnati
More than 1 in 3 Greater Cincinnati adults (34%) use some type of tobacco product, according to the Greater Cincinnati Adult Tobacco Survey. Cigarette use is most common, but new products such as electonic cigarettes have emerged. In recent years, the use of e-cigarettes and vaping products has increased dramatically among youth and young adults. More than 5 million middle and high school students in the U.S. report that they currently use e-cigarettes, according to the 2019 National Youth Tobacco Survey.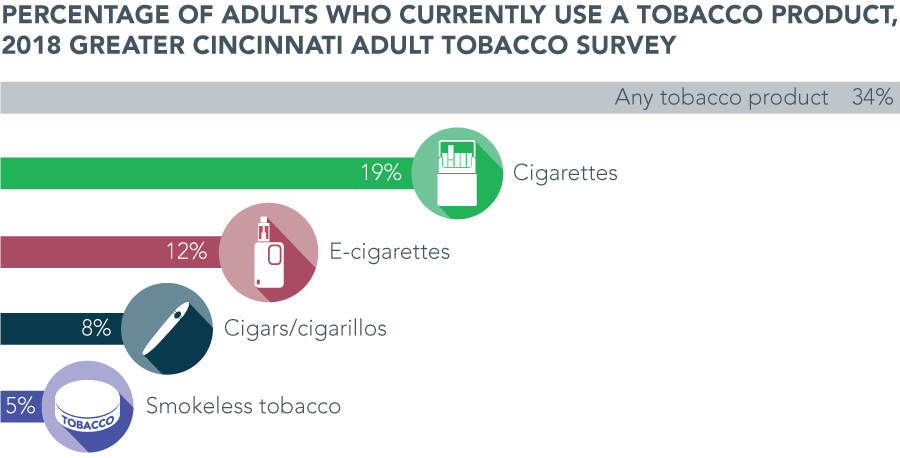 In Greater Cincinnati, almost 4 in 10 adults ages 18 to 29 report that they are current e-cigarette users. Vaping devices resemble many everyday products. No matter what they look like all contain harmful chemicals, nicotine and are marketed to youth. Nicotine is an addictive stimulant that makes the heart work harder. Most vape devices popular with teens have very high doses of nicotine that can lead to irritability, anxiety and mood swings.

COVID-19 and smoking/vaping
The COVID-19 pandemic has raised concerns for everyone, especially those who smoke or use e-cigarettes.
While data are still emerging about the specific impacts of the virus on people who use tobacco, conclusive evidence shows that smoking weakens the immune system and increases the risk of respiratory infections.
Growing evidence indicates that vaping can harm lung health and cause inflammation in the airways and lungs.
The novel coronavirus attacks the lungs and could be a serious threat to those who smoke and use vaping products.
A recent study in the

New England Journal of Medicine

found that Chinese coronavirus patients who smoked were more than twice as likely as those who didn't to have severe infections from COVID-19.
People who smoke or vape touch their faces repeatedly when using a cigarette or vaping device. Public health officials recommend not touching one's face to minimize the spread of COVID-19.
It is more important than ever for youth and adults to stop using all tobacco products, including e-cigarettes, to protect their health.
Cessation Resources
Overcoming nicotine addiction is difficult under normal circumstances. Stress and anxiety are often triggers to smoke or vape. For cessation support, please visit:
Informational Resources